Venues
>
The Restaurant at Address Boulevard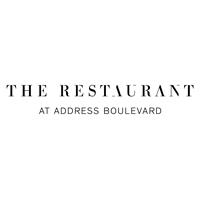 The Restaurant at Address Boulevard
Venue Info

Based on the homely and comfortable feel of an actual apartment, this refreshingly unique restaurant concept will ensure your signature dining experience is one to remember.





Each room cleverly depicts the charming surroundings of a luxury home, featuring both communal and private dining spaces for every occasion. Choose from our exquisite Dining Room, our elegant Dressing Room, Collection Room or elite Lounge. You may even decide to dine alfresco on our family-friendly outdoor terrace.





Each exquisite dish at our Dubai restaurant represents this home-away-from-home concept and the atmosphere holds a relaxed family feel. This unique, inviting concept is perfect for the avid culinary enthusiast who is looking for a fresh, distinctive experience like no other.





An exciting central feature of The Restaurant is the Lounge, where you can sit back, relax and enjoy a selection of unique beverages in our beautifully thought-out spaces which include a Library, Games Room and Music Room.





This apartment-style dining option will ensure that you are eating at one of the most comfortable and exciting venues in the city, The Restaurant at Address.