Venues
>
Pierre's Bistro & Bar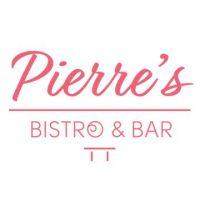 Pierre's Bistro & Bar
Venue Info

Pierre's Bistro & Bar, the exclusive restaurant designed by Michelin starred Chef Pierre Gagnaire is the unmistakably chic, tasteful and contemporary place-to-bein Dubai Festival City. The perfectly perched restaurant setting, has launched an even more perfectly-paired Cheese and Wine night that runs every Monday.

This vibrant scene is a place in which to see and be seen, where guests linger long into the evening, and so why not do so with the choice of the most delectable handpicked partnering of flavours, such as Mousseline de Bleu d'Auvergne /voile de date, Brie à la truffe/Salade de Mâche enjoyed on a crunchy Morbier Melba toast, finished with a Comté 36 mois, mikado de chocolat Blanc. Dreamy.

And it's not just the mouth-watering plate in front of you that is undeniably instagrammable. This dream bar with sleek indoor-outdoor lounge terrace oozes a guilt free 'look where I am' status post. With a signature verdant green covering ceiling and walls complemented by the bright pick of earthy pinks, greens and golds evoke a vintage fused with modern feel.

About Chef Gagnaire
Pierre Gagnaire was born on April 9th, 1950 in Apinac, Loire. He is a French chef, and the head chef of restaurants around the world in Tokyo, Shanghai, London, Las Vegas, and Paris. Beginning his career in St. Etiennewhere he won three Michelin Stars, Gagnaire tore at the conventions of classic French cooking by introducing jarring juxtapositions of flavours, tastes, textures, and ingredients.