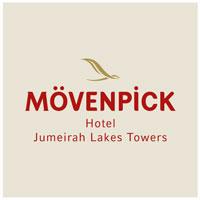 Movenpick JLT
Venue Info

The Mövenpick Hotel Jumeirah Lakes Towers is based in one of the newest and most dynamic destinations, Jumeirah Lakes Towers.

Contemporary, modern and elegantly understated, this five-star venue for dining, recreation and business serves up the finest this fast-forward city has to offer. Just off the famous Sheikh Zayed Road, the 168-room hotel is close to Dubai's thriving new business districts, walking distance from Dubai metro and just minutes away from the city's most iconic attractions. The hotel is ideally situated 30 minutes from the Dubai International Airport, and just an hour's drive from Abu Dhabi.

The Mövenpick Hotel Jumeirah Lakes Towers is the perfect base for business or leisure.

Code of Conduct:
We do welcome your comments and posts on our timeline and ask you kindly to adhere to general netiquette rules: Any inappropriate content or tone of voice considered rude or abusive will be immediately deleted.

If companies or individuals use our Facebook timeline to promote their products or services we might consider deleting such content as well.
Thank you for considering this before putting your messages on our wall.