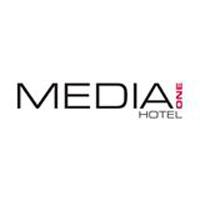 Media One Hotel
Official Partner
Venue Info

Media One Hotel is one of the best hotels in Dubai, located in the heart of the city, this hotel in Dubai Marina is one of the most luxurious and affordable hotels in Dubai. With amenities that are second to none, restaurants, nightlife and more this makes for the perfect hotel to book in Dubai for your next visit.

Media One Hotel's central location makes it very convenient for sightseeing and gives you the best the city has to offer in terms of art, luxury and events. With a rooftop pool, nine restaurants, and the best nightlife, Media One Hotel is one of the go to hotels for booking in Dubai whether its a vacation or a business trip, with different types of meeting rooms to choose from and much more!

If you are looking for a hotel in Dubai, Media One Hotel is the option for you. It's the best hotel in Dubai that's also affordable & easy to book online with many offers all year round, including all inclusive offers on staycations and overall seasonal discounts on your room bookings.
How to get there