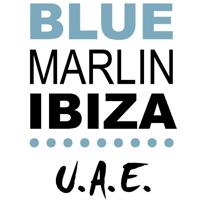 Martin Buttrich, Richy Ahmed & Patrice Baumel
Friday, 06 October 2017
Event Info

This Friday, make your way to the Blue Marlin Ibiza UAE universe, and immerse yourself in our undisputed unique vibe that has truly shaped Blue Marlin Ibiza UAE as the only destination you need.

Stay on the beach, relish in our delicious Mediterranean fusion delights and our mixologists have created for you some refreshing, summer cocktails and smoothies that will take you through the day into the night and keep you energized asking for more!

This week features an incredible line-up of International and local DJ's & Producers fully equipped for a ride through a new season filled with groove, bass and lots of dancing.

Blue Marlin Ibiza UAE ... Not just a beach club, it's a lifestyle.

This week features:

Martin Buttrich (official)

Patrice Baumel

Richy Ahmed

And our usual suspects Frederick Stone Jixo & Danz DJ JEAN B and Aidin Karami

For reservations, contact 056 113 3400 or email

[email protected]

Reservation timings from 11AM - 9PM

Restaurant hours from 1PM - 11PM

Safety driver service available (booking required 48-hours prior to event); guarantee yours today.

Martin Buttrich (official)

Martin Buttrich is famously as fluent behind a mixing console as in front of a virtual drum kit. That technical prowess, combined with a fascination for music of every shape, has resulted in outstanding releases on influential labels such as Cocoon, Poker Flat, and Desolat. He's also put his sonic thumbprint on many big ticket artists, notably receiving a Grammy nomination for a Tori Amos remix in 2003. Such diverse musical horizons are rare. While other prolific artists may have slowly watered down their music, Buttrich's star has risen in diametric opposition.

Patrice Baumel

Patrice Bäumel is an internationally renowned dj and producer currently living in Amsterdam. He is a long-running resident dj at Trouw Amsterdam, one of Europe's leading venues for electronic music, running his "Black Magic" and "HiFi" nights at the club.

Bäumel infuses his productions and dj sets with lots of energy and a sense of adventure, creating a sound that is satisfies the mind as well as the body. He calls it "techno music for grown-ups". Trademark productions like "Roar", "Mike Tyson" or, more recently, "The Woods" are perfect examples of that philosophy.

Richy Ahmed

Richy Ahmed is at the forefront of UK house music; having played a major part in the British house music's recent renaissance, he takes cues from disco, techno, funk, electro and hiphop. Richy's reputation as one of the best DJs and producers around is firmly established. 2017 looks set to see Richy continue to reinvent and branch out, a sign of true sticking power in a fast paced industry.
Venue Details