Venues
>
Reform Social & Grill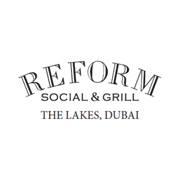 Reform Social & Grill
Venue Info

#YOURLOCAL

From a full English breakfast to traditional weekend roast, Reform Social & Grill offers an authentic gastropub experience, perfect for the whole family.

About RSG

Reform Social & Grill Dubai is the city's first true gastropub and family-friendly restaurant based on one of London's most vibrant venues.

Located in The Lakes, Emirates Living District, featuring a restaurant, ba,​r and idyllic garden and lakeside setting with first-class​ British menu including pork dishes, served from 8am until late every day of the week.