Venues
>
Porterhouse Steaks and Grills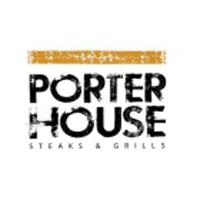 Porterhouse Steaks and Grills
Venue Info

One of the most popular steakhouses on Palm Jumeirah Dubai, Porterhouse imports prime cuts of meat from celebrated producers around the world.

In the welcoming dining room, watch master chefs at work in the open kitchen. An extra special experience is the signature tabletop grill, where choice cuts such as USDA Porterhouse steaks and slow-cooked lamb shank are carved at your table.

Accompanying your meal are expertly prepared sauces and side dishes. Choose a grand cru from the wine cellar to add to the experience.

End your meal on a delicious note with a decadent American dessert. For the little ones, Porterhouse proudly presents a complete menu designed specially for smaller appetites and choosy palates.

Every evening, a selection of background music adds to the lively ambiance. Regardless of which dishes you choose, Porterhouse Steaks & Grills delivers an unforgettable gastronomic experience.