Venues
>
MISSIPPI'S POOL BAR & SOCIAL HUB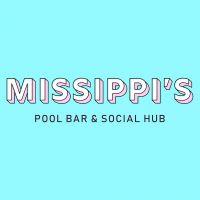 MISSIPPI'S POOL BAR & SOCIAL HUB
Venue Info

POOL BAR

Picture the colourful cafes of Bali, throw in a touch of Tulum's tropics and add the artistry of Miami. You've discovered a vibrant urban oasis. It's fun and it's accessible, it's your home from home in the heart of one of the world's most exciting cities Dubai.

Missippi's is so much more than just a bar, it's a social and visual escape from the hustle and bustle of Dubai. Whether its breakfast with friends, chilling with your other half on a cabana, sun-soaked sips with pals by the pool, or a night-time party with the gang - this new-age urban oasis is a photo-friendly social escape, one that immerses guests in a fun-filled atmosphere and stress free vibes no matter what day of the week or hour of the day it may be."

Catch the live action of your favorite team from our giant LED screen!
Dates & Timings

Saturday to Wednesday 9:00 am - 01:00 am

Thursday to Friday 9:00 am - 3:00 am

Due to adult events on Tuesdays, Thursdays, and Fridays, only guests above 18 years old are advised to enjoy the pool. Children are welcomed to use the Pool facilities from 9:00 am to 8:00 pm except the following days/timings:

Tuesday: 12:00 pm onwards

Thursday: 7:00 pm onwards

Friday: 1:00 pm onwards
Dress code & more