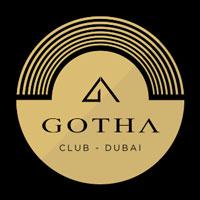 RMX feat. Devon Kosoko
Wednesday, 20 February 2019
Event Info

Your favorite Club in town presents Devon Kosoko at GOTHA CLUB DUBAI in partnership with 365 Concierge!

Don't miss us this Wednesday 5th December!
Ladies we got your back with FREE bev. ALL NIGHT LONG!

#GothaTravelSafe! Use the GOTHA promo code for 40% off to and from Gotha with Careem!

365 Concierge:
For Info & Reservations: 056 555 5 365

Door Policy applies and dress code is smart/elegant
For Reservations please call 055 1 934 934 - Gotha Be There!
Venue Details

Gotha: Cannes Magic In Dubai

Providing a unique clubbing experience to party lovers in Dubai city, Gotha has quickly risen to the ranks of club royalty. Set in Business Bay, Gotha has its roots in the magical city of Cannes, and was added to the Dubai nightlife scene by APJ Management.

Having opened in March 2018, this super club in Dubai city has become a weekend favorite with club-goers because of its expansive dance floor and weekly roster of major international artists.

Within weeks of its grand opening, Gotha has hosted A-listers such as P. Diddy, Ludacris, Tiesto and Martin Solveig – and the list only seems to be growing each week.

On any other night, you can expect a mix of R&B and hip-hop with classics that'll keep you grooving the whole night in this Dubai night club. Apart from banging tunes, you'll also be in for a night filled with amazing animations and live performances.

The venue is luxurious and features a gold staircase, gold couches and a boutique selling cool Gotha merchandise. The main bar, at the ground level, measures an impressive 15 meters in length. There are also exclusive VIP areas as well as a special green room for the major acts of the night performing at this club in Dubai.

This Dubai night club is open three nights a week – Wednesdays, Thursdays and Fridays – with different events taking place each night. Make sure you keep close tabs on their Facebook page so you don't miss out on any!

HIGHLIGHTS


✔️

Glamorous crowd


✔️

Funky interiors


✔️

Exclusive vibes


✔️

Superstar performances


✔️

Weeknight parties

CLUB DETAILS:

Opening hours:
11pm - 3am